Note from Sheri: February 23, 2020
In the process of updating this blog post today. Sheri xo
Have you decided on your word of the year for 2020 yet?
I started picking a word of the year four years ago. I love this ritual.
I think it's the perfect way to start the new year.
In fact, I actually think its MAGICAL (Word #121 in my new list of Word of the Year Ideas ;)).
The first time I chose a word of the year, I didn't know it was a thing. It just felt so good to come up with a special over-arching word that fit how I wanted to feel in the brand year, I found myself being drawn to picking a new word every January.
Now it's become part of a New Year's ritual I look forward to every December. Tip: If it's not a ritual for you yet or you have not had time to do it at the beginning of the year, just do it now, no matter what month it is.
In this blog post, I'll share with you:
What is a Word of the Year? (plus a surprising book suggestion)
How to choose your Word of the Year
What to do if you just can't pick one word or any word for this year
My Word of the Year 2020
DOWNLOAD my sweet Freebie: 11 Questions Worksheet Guide to help you figure out your perfect Word of the Year
Click here to get 211 Word of the Year Ideas!
This post contains affiliate links, which means I may receive a small commission, at no extra cost to you, if you make a purchase using this link.
What is a Word of the Year?
A word of the year is a word you choose as a theme or intention for the year.
Reflect on that for a moment.
You can use a word or phrase to help you create a more beautiful year, even as challenges arise.
Thoughts really are things.
Here's what happened to me.
When I first chose a word of the year, I really, clearly saw – probably for the first time – that thoughts are things. I chose Grace and then just seeing the word online, on paper, or even in my mind relaxed me. I became aware after a short while that even just intermittently remembering that I choose Grace as a word of the year,  I almost automatically set an intention to give myself more Grace and to experience more Grace throughout the year.
I discovered what I was doing was realigning my FOCUS on the energy or vibe of Grace . . . and it was so powerful.
I had experienced some life changes or turning points, I guess you could say, in the last few years in the areas of health, family, finances and career/business. It was almost tangible – the positive results I experienced when I remembered to choose Grace – my word of that first year.
What I'm finding now is that choosing a word of the year is expanding. It's like building and shaping muscle. I'm taking the idea of "inspired action" more seriously. I'm now excited about creating my own vision journal and planning pages to keep my word of the year top of mind.
How to Choose Your Word of the Year?
So how do you select a word of the year?
By asking yourself some questions.
Is there a feeling or state you want to move toward? Happy, Renewed, Committed, Inspired? Is there a feeling or state you want to move away from? Disappointment, Fear, Grief, Complacency?
Now that I think of it, this reminds me of a chapter in my favorite self-help book, Awaken the Giant Within, by Tony Robbins. I discovered this book decades after it was written and it is one of those things that for me has withstood the test of time.
A while back, I found Chapter 15 (Life Values) of the book a bit overwhelming. Tony suggests you write out a list of your Top 10 Moving-Toward Values and your Top 10 Moving-Away-From Values – and to use this list to clarify the priorities of your life and therefore, shape your destiny. He suggests you "condition yourself to use them as your new compass" in life. However, I don't think I really found an easy, fun way to keep my desired emotional states top of mind until I started choosing a word of the year – and then suddenly Chapter 15 made all the sense in the world.
Maybe I had to take it one word at a time.
I did come up with my own list of 11 questions to ask myself each year to help me discover my new Word of the Year – – – and I've designed a cute Word of the Year Questions worksheet freebie for you so you can too. *)) Download my helpful worksheet here. These questions can help you reflect on your life and tap into your intuition to come up with your ideal word of the year. I recommend you also check out Tony's book, Awaken the Giant Within. You can probably borrow it from your library. I have two copies of the book at home. These are two my most cherished hardcover books that I will never part with . . . even during my most ruthless decluttering and go digital sweeps.
I've updated this post for 2020 and added 29 more words for a total of 211 words on my Word of the Year Ideas list.  I surveyed women IRL and in my Facebook and Instagram communities and brainstormed some of my own fave words, including "whitespace." These are words that female bloggers and solopreneurs, mommy bloggers, crafters, creatives and students in my tribes are focusing on in 2020.
Click here to see 211 Word of the Year Ideas.
Action
Abundance
Accomplished
Adapt
Advance
Adventure
Align
Allow
Anchor
Authentic
Aware
Balance
Become
Begin
Believe
Better
Blessed
Blessings
Bold
Boundaries
Brave
Breathe
Bright
Budget
Build
Calm
Capable
Care
Celebrate
Centered
Change
Cherished
Clarity
Classy
Commit
Commitment
Communication
Compassion
Complete
Confidence
Connection
Conquer
Consistent
Contentment
Courage
Create
Creativity
Cultivate
Declutter
Dedicated
Delight
Dependable
Determined
Devotion
Direction
Discipline
Discover
Dream
Ease
Embrace
Empowered
Encourage
Energy
Enjoy
Enlightened
Enough
Expand
Explore
Faith
Family
Fearless
Fierce
Finish
Fit
Fitness
Flow
Focus
Forgiveness
Forward
Foundation
Free
Freedom
Friendship
Generous
Gentleness
Give
Goals
Glow
Goodwill
Grace
Graceful
Grateful
Gratitude
Grounded
Grow
Happiness
Heal
Healing
Heart
Home
Honesty
Hope
Humble
Imagine
Immerse
Improve
Inspire
Integrity
Intentional
Intuition
Journey
Joy
Kind
Kindness
Learn
Light
Limitless
Listen
Love
Loyalty
Magical
Manifest
Mercy
Mindfulness
Motion
Motivation
No
Nourish
Open
Organized
Passion
Patience
Peace
Persevere
Persist
Play
Positivity
Possibilities
Potential
Power
Prayer
Prepare
Present
Proactive
Progress
Prosper
Purpose
Quiet
Radiant
Rebuild
Rediscover
Reflect
Refresh
Reinvention
Relationships
Relax
Release
Renew
Renewal
Reset
Rest
Restore
Rise
Self-Acceptance
Self-Care
Serenity
Serve
Service
Shine
Simplify
Slow
Snuggle
Softness
Soul
Sparkle
Spirituality
Stability
Start
Steady
Stillness
Strength
Support
Surrender
Teach
Tender
Thankful
Thrive
Tranquil
Transformation
Transparency
Travel
Trust
Truth
Unapologetic
Unconditional
Unstoppable
Uplift
Valued
Visible
Vision
Wellness
Whitespace
Willingness
Win
Whole
Wonder
Worksheet
Worth
Worthy
Yes
Zen
What do you think was the most popular word chosen in 2020?
For 2020 I did not find one single most popular word. Instead, I found a huge and imaginative cross-section of words, which I think is pretty awesome. For reference, BELIEVE was the most popular word by far in 2019.
What if you can't pick just one word?
Ok, so if you (like me) can't just pick just one word, you can 1) use two or more words and layer your words or 2) you can break your list down to 12 words and create your own little Word of the Month 2019 Calendar (more about that later) or 3) you can use one of your top picks to form a phrase that captures the vibe you are craving.
Here are some word of the year phrase examples, with some mix and match examples for Grace:
Enough (I am enough)

Progress (Progress not Perfection)

Grace (Grace not Perfection)
Grace (Choose Grace) – This is still mine!
Patience and Grace
Rise + Shine
Sparkle & Glow
Enough (I am enough)
Faith (Walk in Faith)
What if you just can't choose any Word for the Year?
If you are so stumped, you can't even think of one word of the year that you are excited about, just skip it. It shouldn't be frustrating or stressful to choose your word. It should feel exciting and make you happy.  Maybe it's not for you . . . at this time. Or now that you've opened up to it, a special word might come to you later in the year.
Have you chosen the perfect word for you for 2020? Celebrate!
Stumped? Download my free 11 Questions Worksheet Guide to help you find your perfect Word of the Year!
✕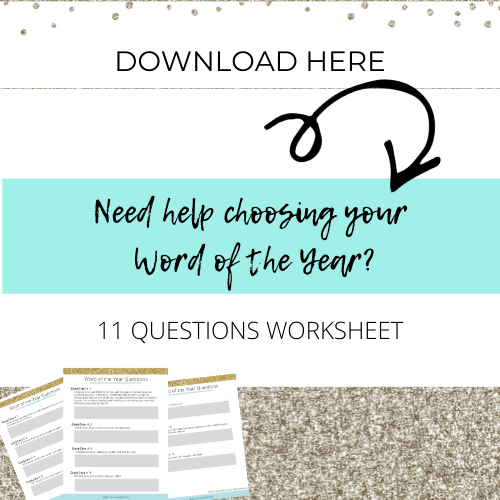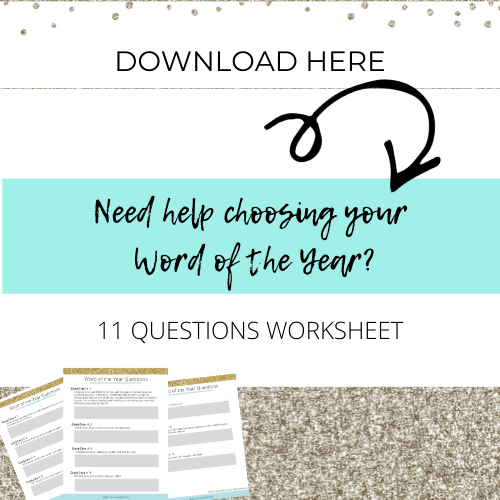 Please follow and like us: