Note: This is Part 2 of a three-part series titled, "How to Find Your Perfect Word of the Year." See Part 1: How to Choose Your Word of the Year.
Need a little help find the right word of the year?
I hope this list of 211 Word of the Year Ideas I've put together for you Inspires (Word #107) you to Embrace (Word #60) your Goals (Word #87) and Commit (Word #36) to Create (Word #46) your Best Year Ever!
I Believe (Word #15) choosing a word to represent your vibe intention is the perfect way to start the new year.
I've updated this list for 2020 and created a cute printable for you to download.
This post contains affiliate links, which means I may receive a small commission, at no extra cost to you, if you make a purchase using this link.
Would you like a pretty list of these words to post or insert into your journal or planner?
Download here:
Action
Abundance
Accomplished
Adapt
Advance
Adventure
Align
Allow
Anchor
Authentic
Aware
Balance
Become
Begin
Believe
Better
Blessed
Blessings
Bold
Boundaries
Brave
Breathe
Bright
Budget
Build
Calm
Capable
Care
Celebrate
Centered
Change
Cherished
Clarity
Classy
Commit
Commitment
Communication
Compassion
Complete
Confidence
Connection
Conquer
Consistent
Contentment
Courage
Create
Creativity
Cultivate
Declutter
Dedicated
Delight
Dependable
Determined
Devotion
Direction
Discipline
Discover
Dream
Ease
Embrace
Empowered
Encourage
Energy
Enjoy
Enlightened
Enough
Expand
Explore
Faith
Family
Fearless
Fierce
Finish
Fit
Fitness
Flow
Focus
Forgiveness
Forward
Foundation
Free
Freedom
Friendship
Generous
Gentleness
Give
Goals
Glow
Goodwill
Grace
Graceful
Grateful
Gratitude
Grounded
Grow
Happiness
Heal
Healing
Heart
Home
Honesty
Hope
Humble
Imagine
Immerse
Improve
Inspire
Integrity
Intentional
Intuition
Journey
Joy
Kind
Kindness
Learn
Light
Limitless
Listen
Love
Loyalty
Magical
Manifest
Mercy
Mindfulness
Motion
Motivation
No
Nourish
Open
Organized
Passion
Patience
Peace
Persevere
Persist
Play
Positivity
Possibilities
Potential
Power
Prayer
Prepare
Present
Proactive
Progress
Prosper
Purpose
Quiet
Radiant
Rebuild
Rediscover
Reflect
Refresh
Reinvention
Relationships
Relax
Release
Renew
Renewal
Reset
Rest
Restore
Rise
Self-Acceptance
Self-Care
Serenity
Serve
Service
Shine
Simplify
Slow
Snuggle
Softness
Soul
Sparkle
Spirituality
Stability
Start
Steady
Stillness
Strength
Support
Surrender
Teach
Tender
Thankful
Thrive
Tranquil
Transformation
Transparency
Travel
Trust
Truth
Unapologetic
Unconditional
Unstoppable
Uplift
Valued
Visible
Vision
Wellness
Whitespace
Willingness
Win
Whole
Wonder
Worksheet
Worth
Worthy
Yes
Zen
To learn:
The most popular word chosen in 2020
How to pick your ideal word of the year
What to do if you can't just pick one word
See examples of word pairings
11 Questions I ask myself to discover my perfect Word of the Year every year
See Part 1 of this series
How to choose your perfect word of the year.
✕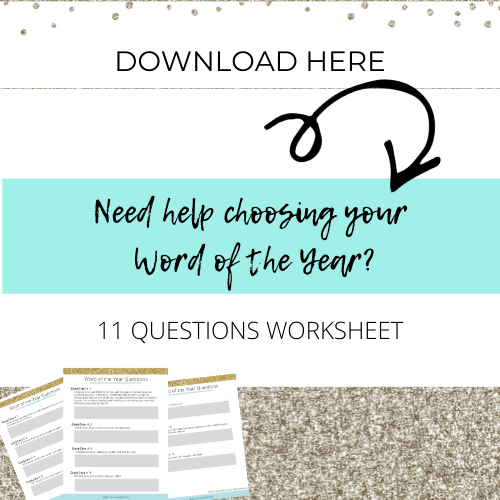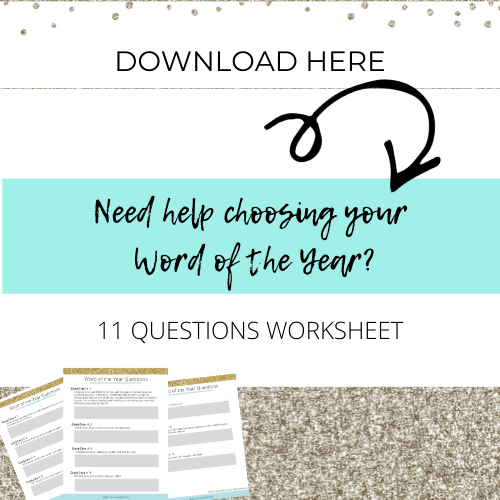 Please follow and like us: